FOR IMMEDIATE RELASE: March 3, 2023
Contact: Mike Sandmel, mike@neweconomynyc.org
100+ LOCAL ELECTEDS FROM ACROSS NEW YORK CALL ON ALBANY TO CLEAR WAY FOR PUBLIC BANKING
Elected Officials From 33 Cities and Counties Deliver Letter to Governor and Legislative Leaders, Urging Enactment of New York Public Banking Act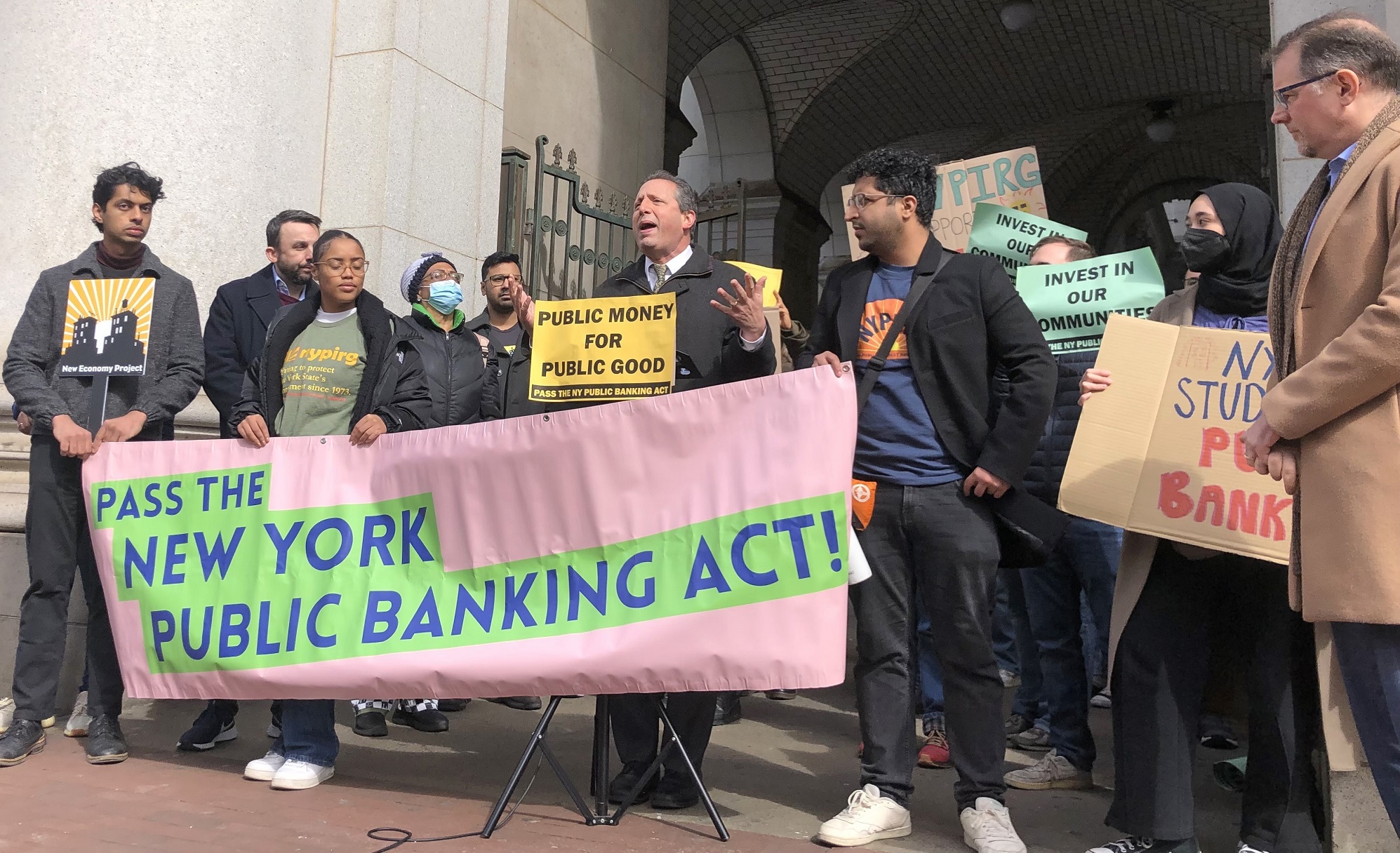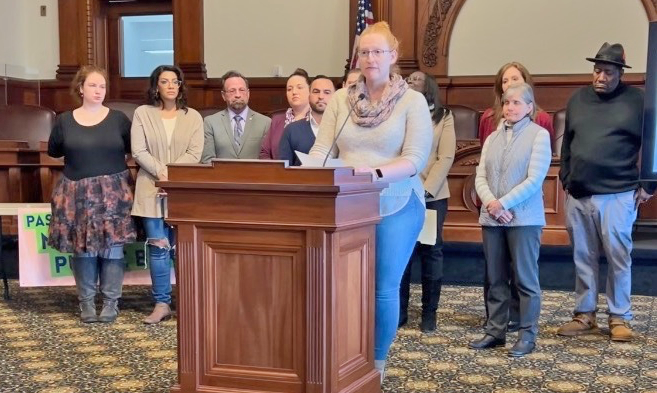 NEW YORK, NY – Today, 108 local elected officials from 33 New York cities and counties delivered a letter to Governor Kathy Hochul, NYS Senate Majority Leader Andrea Stewart-Cousins, and NYS Assembly Speaker Carl Heastie, urging enactment of the "New York Public Banking Act" (S1754/A3352) – legislation creating a safe and appropriate regulatory framework for public banking.
The move reflects rapidly growing statewide momentum for creating local public banks, financial institutions created by local governments and chartered to serve the public interest. Public banks hold public deposits and reinvest in equitable local economic development.
Signatories to the letter collectively represent millions of New Yorkers and include more than three-quarters of the NYC Council; the entirety of the Rochester City Council; The Albany City Treasurer and Chief City Auditor; the Chair of the Westchester County Board of Legislators; the Mayors of Hudson, Kingston, and North Tonawanda; and a wide range of other local lawmakers from communities stretching for Lake Erie, to the North Country, to the eastern tip of Long Island.
At a press conference held Friday at Rochester City Hall, Rochester City Council Vice President Mary Lupien said, "Under existing state law, The City of Rochester is required to deposit public money in commercial banks where it is used for investments that seldom serve our community, generating profits that don't return to our community." She added, "My colleagues and I stand 100% united in calling on Albany to remove this obstacle to equitable local development. It's past time to pass the New York Public Banking Act and give localities the tools to stretch public funds further – enabling us to leverage public deposits for increased investment in affordable housing, good jobs, infrastructure, and other critical community needs."
Supporters also rallied in Lower Manhattan, where NYC Comptroller Brad Lander said, "Embracing New York's reputation as a center for prosperity and opportunity requires addressing financial inequities facing communities of color. A history of discriminatory banking policies have left low-income New Yorkers struggling to build credit and receive loans. Albany can act now to establish public banking opportunities so that all communities have the path to build wealth and achieve the prosperity that New York promises."
Local leaders are not alone in their support for the legislation, which would make New York the second state in the country, after California, to create a regulatory framework for local public banks. Dozens of state legislators have endorsed the bill, as have more than 150 community, labor, and small business groups, and community-based financial institutions from across the state.
Additional Quotes:
"The time has come for New York State to establish public banks," said State Senate Banks Committee Chair James Sanders Jr., lead sponsor of the New York Public Banking Act in the NYS Senate. "A public bank would result in less expensive financing for infrastructure, affordable housing, economic development, environmental protection, small businesses, including Minority and Women-Owned Enterprises (MWBEs), and many other worthy projects in the public interest. Since taxpayers will save funds with public banks, it makes sense. Everyone benefits from public banks."
"Before I was Chair of the Assembly Banks Committee, it was apparent to me that there are deep disparities between communities when it comes to access to banking and financial tools. While some gains have been made to close this gap, there is much more work to do," said Assembly Banks Committee Chair Pamela J. Hunter, lead sponsor of the New York Public Banking Act in the NYS Assembly. "As the sponsor of the New York Public Banking Act, I will be advocating for a full consideration of this legislation so that communities of all backgrounds can access the vital capital they need to escape poverty and prosper."
"The message is clear: From Western New York to New York City and Long Island, local governments across the state are ready to move forward on public banking, enabling them to divest public money from big banks and reinvest in historically-redlined communities of color," said Mike Sandmel of New Economy Project, which coordinates the NYS Community Equity Agenda and Public Bank NYC coalitions. "The New York Public Banking Act will create a safe and appropriate regulatory framework that paves the way for cities and counties to do just that. With over 100 local elected officials from every corner of the state endorsing the New York Public Banking Act, Albany must heed their voices and pass the bill this session."
"Time and time again, big, private banks have shown us they are willing to overlook fairness, ethics, and the interests of the people they serve in pursuit of profit," said New York City Council Finance Chair Justin Brannan. "In New York, we live with them anyway because we don't have any other choice. But public banking has delivered financial services geared towards the public good and people's real needs in communities across the world – even in the 'red state' of North Dakota. It's a no-brainer: public banking works, and New Yorkers deserve the chance to have it work for them."
"The last few years of global turbulence have shown us the importance of local economic resilience. Public banking would open up big windows of opportunity for small cities like Beacon, enabling us to invest in much-needed affordable housing and to attract good-paying local jobs," said Dan Aymar-Blair, Beacon City Council Member.
"Establishing a public bank will improve the lives of New Yorkers. Public banks are a proven way to build community wealth and fund vital, mission-driven projects while remaining accountable to the public. I urge the State Legislature to pass the NY Public Banking Act," said New York City Council Member Keith Powers, lead sponsor of "People's Bank Act" legislation in the NYC Council.
"Each year, New York City moves tens of billions of taxpayer dollars through Wall Street banks, which profit from redlining, private prisons, and climate destruction," said NYC Progressive Caucus Co-Chairs, Council Members Shahana Hanif & Lincoln Restler, and Vice-Chairs, Carmen De La Rosa & Jennifer Gutiérrez."The Progressive Caucus is proud to support the call for public banking in New York. Allowing the City to move municipal funds out of predatory financial institutions and into a publicly accountable, and publicly, owned financial entity is essential to building a just, equitable City."
"Achieving financial justice and generational wealth-building for Black and Brown communities requires our city to create pathways that address systemic disparities," said Council Member Kevin C. Riley. "Corporate banks have historically marginalized and disinvested from our people. It is time that we encourage local economic development and support the movement for public banking in New York, which invests money directly back into the community. I encourage my colleagues in government to stand behind this opportunity to hold big banks accountable and reimagine the banking system to center the needs of our constituents, especially in underserved communities like The Bronx."
"Public banking is an exciting tool to help level the playing field for districts like mine that were intentionally defunded for decades," said Monroe County Legislator Carolyn Delvecchio Hoffman. "A public bank would allow us to handle our money in ways that center the community – uplifting neighborhoods by helping to finance affordable housing, MWBEs, infrastructure projects, and more."
"The New York Public Banking Act can help foster growth, innovation, and economic mobility within our communities," said New York City Council Deputy Speaker Diana Ayala. "It can open the doors for investments in affordable housing and small businesses; we have an opportunity here to provide local governments with the resources they need to grow economically and I hope that our state partners see that."
"Public banking would help address long-standing racial and economic inequalities while giving municipalities greater flexibility to address the wide range of housing, infrastructure, and other challenges we regularly tackle," said Ithaca City Alderperson Ducson Nguyen.
"Recent uncertainty about the direction of the economy had made it more imperative than ever to act boldly to raise the standard of living of all New Yorkers, including those who have been underserved by traditional financial institutions," said Queens Borough President Donovan Richards Jr. "The creation of public banks would strengthen the economy and address the persistent inequalities that make achieving financial independence more difficult for working people in Queens and throughout New York State That's why the Legislature should pass and the Governor should sign the New York Public Banking Act, which would create a fantastic new tool that would help increase prosperity all across New York."
"Public banks ensure inclusive economic development and benefit communities who have historically suffered racial and economic inequality and have been deprived of financial resources," said Newburgh City Council Member Giselle Martinez.
"There is no reason we should keep banking with the massive Wall Street firms that we continually discover have ripped off and discriminated against everyday New Yorkers, and which continue to bankroll destructive industries like fossil fuels and gun manufacturing – especially when we could form a public bank that is accountable to our communities, our environment, and our principles of fairness and transparency," said New York City Council Member Tiffany Cabán. "With broad consensus around this issue in places like NYC, it's past time for Albany to pass the Public Banking Act and pave the way for us to take action locally"
"I am honored to support the New York Public Banking Act. Once passed, this bill will promote financial inclusion and support economic development, while also giving access to financial services to those who lack the resources," said New York City Council Member Nantasha Williams. "This is especially important to me because many of my constituents are low to moderate income, small business owners within marginalized communities."
"The New York Public Banking Act would help address longstanding racial disparities in access to banking and lending," said Albany County Legislator Sam Fein. "The mortgage denial rate in 2019 for Black Americans was 17.4% while it was 7.9% for white Americans. Public banking would also put control of banks in the hands of the people rather than shareholders, ensuring that banks are accountable to the people. I thank Senator James Sanders for continuing the fight for public banking in New York and I call on the entire state legislature to help make public banking a reality."
"A public bank would allow us to invest in historically under-served communities, truly affordable housing, real community development, worker-owned businesses, clean energy, and policies and initiatives which advance opportunity and equity. The New York Public Banking Act would facilitate critical investments in local economic development, building upon our capacity to withstand future crises. I look forward to working with my colleagues in the State legislature and Governor to enact this important legislation," said New York City Council Member Carlina Rivera.
"The time for New York City to break free from its dependency on the big banks is now," said New York City Council Member Alexa Avilés. "Not only do Wall Street banks channel our deposits towards destructive corporate interests that work against the public good, they charge us for the service. Instead, with a public bank, we can finally put our money in a public institution that is accountable to the people and that invests in our needs and our communities."
"So many of our neighbors are unbanked or underbanked. We've made accessing financial products and building wealth so difficult, from the location of banks to requirements to open accounts," said Monroe County Legislator Rachel Barnhart. "A public bank would greatly help expand the capacity and reach of locally-rooted credit unions and community development financial institutions in Rochester. That's why I am a strong supporter of public banking."